This probably deserve the biggest OMG of the week, the news story I never expected to read…
One of the hottest couples of the moment, Robert Pattinson and Kristen Stewart, have been rocked by cheating claims. It is being reported that Kristen cheated on her Twilight co-star with the married director of Snow White and the Huntsman, Rupert Sanders. And now Kristen has confirmed the allegations by submitting a public statement!
An American magazine claimed that Kristen, 22, and Rupert were pictured in an intimate clinch. A source told the magazine it seemed like the pair 'couldn't get enough' of each other.  Another insider said 'Kristen is absolutely devastated. It was a mistake and a complete lapse in judgement. She wasn't having an affair with Rupert'.
'It was just a fleeting moment that shouldn't have happened. She never meant to hurt anyone. She's a good person who just made a bad choice.'
But now, a day after it was branded a 'fleeting moment', more pictures have surfaced of K-Stew and the older director kissing passionately in a car.
Paps caught them in the act when K-Stew left the gym and went to a mystery location- soon after Rupert Sanders arrived. Before they knew it, Kristen was pushed up against the inside window while Rupert "kissed her entire body!"
Scandaloussss
The source continues explaining their dirty romp, saying: "They'd only take a break whenever someone walked by. It seemed like they couldn't get enough of each other. She was swept up in the moment."
After these extra pics emerged Kristen spoke out saying: "I'm deeply sorry for the hurt and embarrassment I've caused to those close to me and everyone this has affected. This momentary indiscretion has jeopardized the most important thing in my life, the person I love and respect the most, Rob. I love him, I love him, I'm so sorry."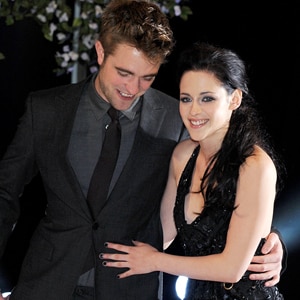 There has been no word from Robert Pattinson's camp. However, rumour has it that Rob found out about the affair the way the rest of us did- through the tabloids. Kristen hadn't had a chance to speak to him…Ouch!
The man in question is British director Rupert Sanders, 41, he cast K-stew in her recent role as Snow White. His wife, Liberty Ross, was cast as Snow Whites mother in the film *awkward*.  The film was released last month and finished filming early this year. The director is married with two children, a 7-year-old daughter and a 5-year-old son.
Just days ago Rob and K-Stew looked happy as they promoted their final film in the Twilight saga.  Undoubtedly the news will be a massive blow for Pattinson, 22, who has recently hinted that marriage could be on the cards.
K-Stews most recent interview with Elle magazine reveals that she is tired of her 'boring' life, claiming that she 'can't wait for something to f***ing happen to me. Just life, Do you know what I mean?' Well you've got your wish now Krist….
Maybe she is going through a self-destruct phase in an attempt to shed her wholesome image?
When Rupert first cast Kristen he told E! News that: she was 'quite rebellious…and feisty and kind of wild'. He continued, 'She's very strong and driven, and I think that's true in her personal life…She's got a big weight of the world on her shoulders and she carries it incredibly well'. Clearly he had taken a liking to her…
Standing side by side at the premiere: Kristen and Rupert
Rupert's wife, Liberty, 33, retweeted a cryptic quote from Marilyn Monroe on Monday saying: 'Sometimes good things fall apart so better things can fall together'. She later deleted her twitter account.
We're sending our love to Robert here at Gossip Drip and if he needs a cuddle, we are here with opens WIDE open!
K-Stew what were you thinking woman?!?!

Snow White and The Huntsman is set to be the first film in a trilogy and the final Twilight film will be out later this year.
Comments
comments