Wow can you believe it's March now? It's been a week full of drama in the celebrity world- and we love it! Celebrities dazzled on the red carpet at the Oscars last week and now there's plenty of baby and relationship news to dig your teeth into. Read everything that you need to know about here…..
Is Harry Styles now dating Alexa Chung?
One Direction's loveable frontman may have been dating the gorgeous Caroline Flack until a few weeks ago, but now it looks like Harry's been getting close to Alexa Chung- ooh-er!
Harry , who has just turned 18, and 32-year-old Xtra Factor host Caroline dated last year but faced a furious backlash from both jealous fans and cynical celeb friends stating that the 15 year age gap was too large. After Caroline spoke out to defend the age difference, it seemed as if the relationship had slowly fizzled out, to the world's media at least.
But now with increasing fame with the success of the band, Harry Styles is a favourite in celeb-land. As he and new best friend Radio 1 DJ Nick Grimshaw  have been busy attending events such as Stella McCartney's swanky dinner for last month's London Fashion Week and the NME awards, Caroline has also been posting pics of the DJ on her Twitter page- is he their go-between?
Whatever is going on between Harry and Caroline (will we ever know?), there seems like there's a new woman on the prowl- in the form of Alexa Chung.
The former T4 presenter, 28, split with Arctic Monkeys frontman Alex Turner last summer and is enjoying her time back in the UK from her new home in New York by partying with the teenager. Although they first met last year, Harry's new found fame has meant that he's joined their little trendy group.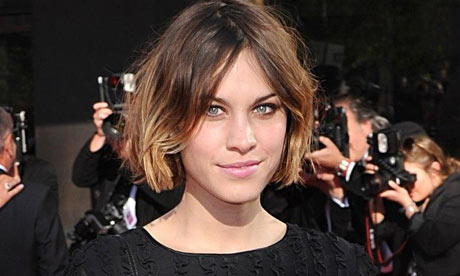 On Valentine's Day, Harry phoned up Nick Grimshaw's Radio 1 show to cheer up the ladies, just as Alexa Chung happened to be in the studio. He gave a message to a mysterious 'Alexa C from London' telling her: "You're my everything, I love you always, especially physically". Saucy!
As they partied in London last month, it was a yo-yo game for Harry and Caroline who have been seen at the same events yet keeping apart, while sources say they are "playing a cat and mouse game" and chasing each other constantly.
Whatever's going on between Harry and Caroline, it looks like Alexa's interested too and has reportedly been talking to the One Direction star constantly while the band tours in America. Don't let him go Caroline!
Is Adele engaged?
The amazingly talented Adele hasn't been quiet about her love for new boyfriend Simon Konecki, and after being photographed with a super-size 10 carat sparkler on her wedding finger at the Brits rumours have been flying that they are engaged.
Adele denied these speculations by claiming that if they were to get engaged she would want a ring that can be "seen from space", and that although the pair feel as f they are engaged, the beautiful ring was just a love token from her boyfriend.
However this week a number of close sources have apparently revealed that the ring is in fact an engagement ring and the pair are planning to marry this year in a small low-key wedding where everyone can let their hair down and celebrate.
Simon, who has been married once before, is Adele's first serious relationship since the man who broke her heart left her leaving her world in tatters. She used the heartbreak to fuel the songs for her acclaimed second album 21 which has sold millions around the world.
Uma Thurman pregnant with 3rd child:
The Kill Bill star, 41, has announced that she is pregnant with her third child!
The actress, who stars in new release Bel Ami with Twilight's Robert Pattinson, is expecting her first child with new lover Arpad Busson.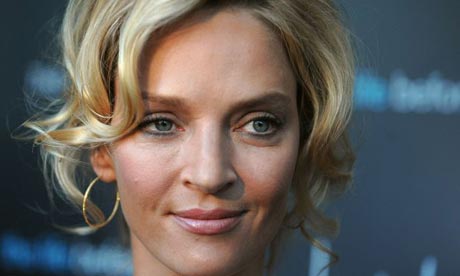 She has two children from her previous marriage to Ethan Hawke and expects to add to her brood later this year, according to E! online.
Awww big congrats!
Harvey Price's new hair makeover:
Ex glamour model-turned-businesswoman Jordan has given her eldest son Harvey a haircut to remember, or not.
Jordan, real name Katie Price, took her son Harvey to celebrity stylist Daniel Johnson to give her son's hair a trim but he ended up with tribal patterns shaved into his head, and of course had pictures shared on Twitter for all to see.
Nine-year-old Harvey, who suffers from autism and septo-optic dysplasia which has left him with restricted vision, left the salon with a giant Mohawk and strange patterns on both sides of his head.
As Katie Price tweeted pictures of her son to the world, a furious stream of angry mothers replied in disgust at the 'thuggish hairstyle' and seeing the design as just another way for the former glamour model to make money.
A spokesperson replied to the hundreds of complaints by speaking to The Mirror: "Harvey loves the feel of his hair and it is something that he touches and interests him."
This isn't the first time that Katie has dolled up her children, as last year saw her straighten her three year old daughter Princess Tiamii's hair and apply false eyelashes.
Are Lewis Hamilton and Nicole Scherzinger back together again?
After they called time on the relationship at the end of last year, it seems that the celeb couple are back together again.
Following the axe of the former Pussycat Doll's singer from the US version of the X Factor, 33-year-old Nicole has ran straight into the arms of her former lover – British Formula One driver Lewis Hamilton.
After being papped hand-in-hand after Nicole's concert in Dublin last month, an insider has revealed that it was in fact Lewis' dad who made the pair try at their relationship again.
According to a close source of the family, Anthony Lewis stayed close to Nicole after they split following a three-year relationship. He convinced the 27-year-old Formula 1 driver to look at settling down because, wait for it, it might help his career!
Part 1 of 2…
Comments
comments