Once the backing vocalist with indie group Bombay Bicycle Club this pretty young thing is about to release her debut album, Like I used to. Her vocals are dreamy and sugar-sweet. But this isn't just a folksy background haze of delicate riffs and soft vocals this girl can pack a punch with playful rhythms.
She's 23, taught herself how to play the guitar, shy and naturally beautiful and writes her own lyrics and music. Place her next to Joni Mitchell, Bombay Bicycle Club and Laura Marling in your music collection.
We caught up with future face of the moment Lucy Rose to chat which bands she is currently coveting, festivals and being a girl in a tough industry.
How would you describe your sound and what inspires you to write? I find it so hard to describe my sound, I really don't know what it is but maybe somewhere around cinematic thought provoking funk. Everything inspires me to write: books, films, music, especially open mics and any experience.
You've mentioned that you only write about personal experiences, have you ever found it hard to share your intimate thoughts with an audience? Every time I play a new song I'm always really embarrassed. Suddenly I'm sharing my most recent and innermost thoughts with a load of strangers (or worse people that I know.)  That was why my song 'Red Face' was given that title. I'm such a closed book the rest of the time, so I always find it a little hard.
You have had increasingly more exposure throughout 2012- what has been your standout moment so far? Not sure if I've had a standout moment but playing Heaven in London was great and making the video for Bikes was a lot of fun.
You first made a name for yourself singing alongside the lovely Bombay Bicycle Club boys- did you ever want to be a part of a band or did you always see yourself as a solo artist? I'd have loved to have been part of the band but they were a band and I had my music going on so it made more sense doing it this way.
You've been on the festival circuit this summer- how has that been?! Favourite festival? I probably have three favourite festivals so far. Hop Farm because it was such a great atmosphere and an amazing line-up. Fieldview because it was the first time I'd ever stage-dived and we partied hard. And Green Man because it had the best crowd ever.
What is your ultimate goal/dream in terms of your career- for example, dream venue to play etc….? All I want to do is carry on making music. So the dream is just to be able to make another album and then hopefully another that people enjoy. I prefer playing small venues so not sure….
If you had to pick an artist that you would consider a 'Future Face' who would it be? A band called 'Peace' I love them.
Vogue magazine has stated that you are "one of indie music's breakout stars for 2012″- do you feel any pressure when you're given this kind of recognition? I don't really read anything that is written about me, but that gives me encouragement that maybe I'm doing something right and helps me carry on.
Are you aware of the image you portray- your photo shoots and videos are very naturally beautiful and it is clear that you have musical and vocal talent- is this a conscious decision in a world where lots of other females in music get recognition solely based on outlandish fashion and being overtly sexual? Is this something that is important to you? I try not to over think anything. I have a very clear image of what I want my music to be and when is comes to the photos and videos I'm just being myself and have a little fun with it. I'm very unfashionable and think that's the way I'll be forever, in jeans, trainers and a t-shirt.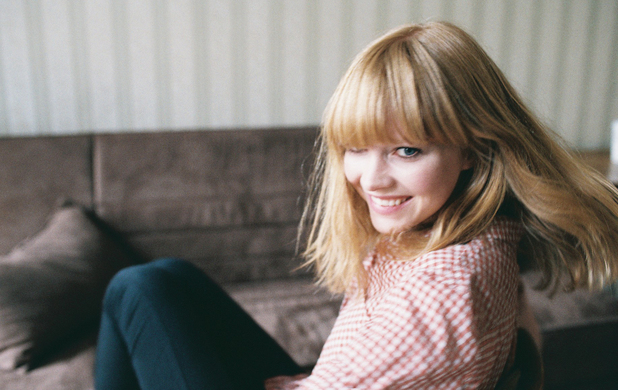 What's next? The current single is Bikes, which is out 17th September, and then my debut album Like I Used To is out 24th September.
Watch the video here- majorly amazing, Lucy slaps a few bikers around! Ha! This girl is too cool for school with an extra dollop of cute!
Catch Lucy at an intimate in-store gig at Banquet Records, Kingston-Upon-Thames on September 25th and at Bestival, September 6th to 10th.
Comments
comments