Our three favourite sisters have announced that they are launching  their own line of make-up called Khroma Beauty.
We've recently seen Kim Kardashian in the headlines for her 72 day marriage and her new relationship with Kanye West, but now she's proving she's a beauty icon too.
It's no question that Kim looks beautiful without make up but in her lashes and fierce red lips, we have nothing short of envy.
So when we found out she was teaming up with sisters Kourtney and Khloe, we suddenly wondered what took them so long?!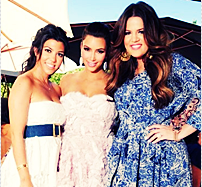 "We're so excited to partner with Boldface Licensing+Branding on this new venture. There's a glam girl in all of us and it's a dream come true to have our own makeup line and to share it with women around the world." said the sisters.
The launch date is set to be in December, which will feature a range of false eye lashes, mascaras and their own special touch 'Kardazzle' compacts. The range will continue to expand the following year with foundations and powders. The products are going to be on sale in American store Ultra.
We can only expect that this will be the beginning of the sister domination, and we love it!
Comments
comments