Just when you though there couldn't possibly be more to this story a new set of stories surface as fans and friends wage in on the war between Kristen Stewart and Robert Pattinson.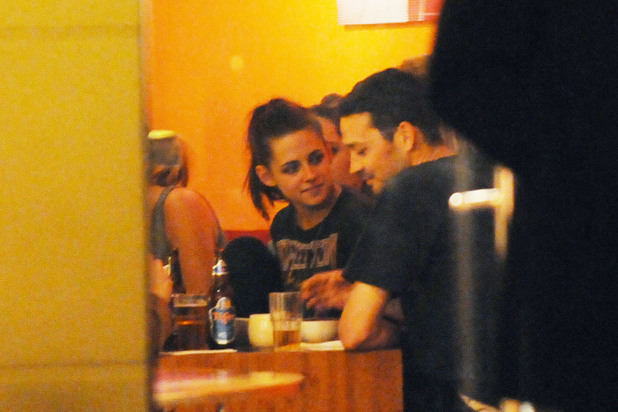 Robert Pattinson's world crumbled last week as pictures of his long-term girlfriend Kristen Stewart kissing Snow White And The Huntsman director and married father-of-two Rupert Sanders hit magazine covers across the world.
Since the scandal broke there has been no official word from Robert. However, a removal van has been spotted at the Los Angeles home her shares with Kristen Stewart. It is reported that Kristen and Rob are not on speaking terms as he feels it is too painful to discuss her indiscretion.
However, it is reported that Rob wants a man-to-man chat with Rupert Sanders to find out the exact details of the affair as he allegedly feels he can't trust Kristen to tell him the truth.
The couple days before the news about Kristen cheating was exposed
Even though Kristen insisted in her public statement that the kiss was a 'momentary indiscretion', relatives of the British director have spoken out stating that the affair had been going on for months. Sanders' brother-in-law, Leopold Ross, has said he believes Kristen and Rupert became involved with each other while they were filming Snow White and the Huntsman.
Speaking to a British newspaper, Leopold said that Kristen's affair with the 41-year-old director began during the second half of filming for the blockbuster movie. He explained: 'It was from the last half of filming and all through post-production, clear into last week.'
And understandably the famously private Robert Pattinson is reported to be dealing very badly with the events of last week.  A newspaper reports he has been asking strangers out for drinks in the hotel where he is staying. It has been revealed that 'he went out for drinks with a woman staying in his hotel and he told her it was 'ridiculous' he had nobody to talk to. He's been spending most of his days off playing computer games.'
However, close friend of Kristen, has openly tweeted defending the Twilight leading lady: 'Ill say right now what the manipulative media isn't saying… Kristen Stewart did not have any type of sex with Rupert Sanders,' wrote Giovanni Agnelli. The producer who says Kristen is like a 'sister' to him is adamant that there was no sexual affair and that there was no on set affair.
Giovanni defends K-Stew
Clearly someone is telling lies- Kristen? Giovanni? Leopald? Who knows. As the story unfolds more details emerge that cloud the truth…
New details of the relationship between Robert and Kristen have emerged over the weekend and it was reported that the 22-year-old actress cheated on Pattinson because she was envious of the friendship he formed with Australian beauty Emilie de Ravin on the set of his recent film, Remember Me.
Rob with Emilie- he has said in interviews he doesn't understand those who cheat
Okay, so we understand that anyone can experience a bit of jealousy but did she really need to retaliate by cheating? Seems a bit silly really….
R-Patz was reportedly weeks away from proposing to his beloved K-Stew…*sob*
The pair are living separately and not speaking. However, People notes that the duo will likely to be reunited soon — they're scheduled as co-presenters at MTV's Video Music Awards on Sept. 6, followed by their massive promotional tour for the final film in the Twilight saga, Breaking Dawn: Part 2, due out Nov. 16. *Awkward*
Comments
comments