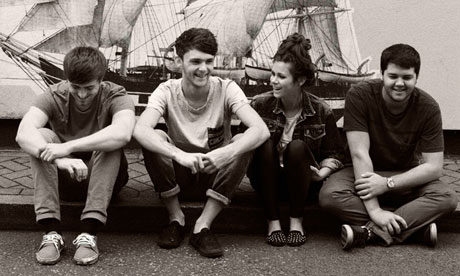 Jess Hall (vocals, keyboards), Alex Stone (guitar, vocals), Andy Vincent (bass), Stef Pysanczyn (drums) aka Colour The Atlas are a 19 year old four piece from Swindon are tipped for success with their UK folk sound. Their self titled debut EP is an accomplished piece of work . Jess on lead vocals is stunning- her voice is poignant and ties together the talent of the boys on their instruments beautifully. They have received radio play for Fearne Cotton and supported Newton Faulkner on his recent tour.
Colour The Atlas EP is the auspicious debut release from Colour The Atlas. With its staccato drums, layered synths and otherworldly boy-girl vocals, lead track-Snow- is a sonically intriguing introduction to this startlingly talented young band. Successfully blending contemporary production with agile musicianship and complex songwriting, this is nu-folk with a trip-hop twist.
These guys are childhood friends and have written and produced material from a makeshift studio in a garage and the results are amazing.
There are similarities with the likes of The XX and Slow Club- they have that kind of indie slant but their tracks could definitely slip into the charts amid Ed Sheeran, Emelie Sande and Ben Howard. Although, they cite their influences as American artists like Fleet Foxes and Bon Iver.
There are some seriously heartbreaking lyrics- check track, Satellite- Jess' voice is soulful and moving as she sings about losing faith after a break-up. Relatable folk songs with a layer pop infused beat.
Expect to hear more of Swindon's finest in 2013…
Check out live version of the lead EP track, Snow…

Comments
comments