Well the mighty Mumford and Sons tour finally happened. I am big fan of this band; as soon as I heard the lyrics, melodies and instrumentals that came from their highly successful 2010 album 'Sigh No More', I knew the second album 'Babel' (released September 2012) would have a lot to live up to. But thankfully they did just that. They are a band who has captured the heart of millions, including dominating the American charts- something not many British bands can achieve with such ease.
Here at Gossipdrip we have found it slightly difficult  to fully express how amazing this gig was! Words fail us!
To say this band delivered would be an understatement. Opening with 'Babel' and 'I will wait' whilst also including much loved songs from the first album such as 'White Blank Page' and 'Little Lion Man'; instantly showcased their talent.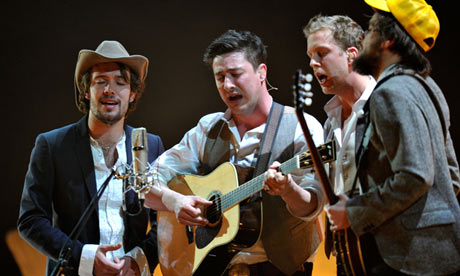 Mumford and Sons have all of the necessary ingredients to make a live tour one to remember. The vocals, the instruments and the atmosphere were faultless. To hear a band sing live and sound even better than they do on the album is a talent and one which proves not only their worth in British music, but also by being nominated for the upcoming Grammy Awards.
This gig really did have everything. The well known songs were played alongside new tracks off the album; an array of instruments were played amazingly including the banjo (everyone loves a banjo!), double bass and drums; and most importantly, the band genuinely looked like they were loving every minute just as much as the audience.
Not only will you go away from this gig loving both albums even more (and possibly the desire to learn to play an instrument!) but also with a bit of a crush on these rather dashing and super talented men….. A best of British folk band who showed everyone how to do folk with a dash of cool.
You may also get to see a dragon and a puppy moon walking on stage…. (we don't make this stuff up!)
Comments
comments