Well it's been relatively quiet this week in celeb land but we've still gathered all the ins and outs of our fave people for you to read up on…
Jonathan Ross for Celebrity Big Brother:
The Celebrity Big Brother 2012 final was an amazing one wasn't it? As the final five housemates (Denise Welch, Frankie Cocozza, twins Kristina and Karissa, Gareth Thomas and Michael Madsen) waited with bated breath as faced the public, it was Denise and Frankie who won the show!
Ok, so technically chest-flashing-lover Denise won, but does everyone remember how the media reacted when it was confirmed that shamed ex-X Factor contestant Cocozza would enter the house? The poor bloke. Finishing runner-up AND winning over the public with the way he dealt with the dramatic 'Pantsgate' scandal seems like a pretty good win for our cheeky chappie!
So with Denise crowned winner and the American twins booed as they left the house, yet another dramatic season of Celebrity Big Brother was unfortunately over.
However, during spin-off show Big Brother's Bit on the Side, the fantastic Jonathan Ross phoned up exclaiming that he would love to enter!
The TV host said: "I want to go in because from the outside it seems impossible to know what I'll be like in there, but it seems like such a strange experience."
"I would happily go nude, I spend a lot of time naked, I'd like people to see what I've got."
"But she [wife Jane Goldman] won't let me go on for the very reason that I'll probably bring shame on the family and end my career"
Erm yeah, that's exactly why we love it!
American X Factor shake-up:
After Simon Cowell sensationally axed pal Cheryl Cole last year in her move to the Stateside version of the hit show, now this year's panel have been dropped too!
Welsh hunk and presenter Steve Jones has confirmed that he will not be returning to the show after numerous negative comments from critics. He tweeted: "I won't be hosting next seasons X Factor which is a shame but I can't complain as I've had a great time. Good luck to everyone on the show."
Next up was 33-year-old singer and Cheryl Cole's replacement Nicole Scherzinger. It is unsure whether she quit or was cut, but the former Pussycat Doll tweeted: "I wanted to let you know directly from me that it's true I won't be returning to The X Factor."
She later tweeted again with a more positive outlook: "Looking forward to an exciting year ahead and making great music and more! I'm grateful for the love you always give me."
Finally in the drama that is the cutting off almost the entire American X Factor panel, it was Simon's close friend Paula Abdul! 49-year-old Paula is distraught with the news, and according to Radar Online one source says that she was completely shocked by her cut from the show.
The source said: "Everyone is afraid this is going to send her into a deep depression and cause her to revisit some of her old destructive behaviour."
"After talking to Steve [Jones], Paula phoned Simon to ask him if the rumours were true, and he admitted that the powers that be at Fox didn't think she was 'edgy' enough to be brought back, but that he was working on trying to convince them to keep her on."
We bet Cheryl Cole is really laughing now, especially as she is set to perform on rival TV show The Voice.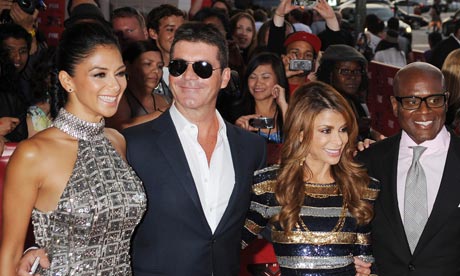 So who will join the panel? Rumours include Elton John, Mariah Carey and now Beyonce- for an eye-watering £100 million dollars!
New mum Beyonce and wife of Jay-Z is undoubtedly one of the world's most successful women. Starting out in Destiny's Child and enjoying a smash-hit solo singing career, the lady is hot property. According to TellyMix, a source told Media TakeOut: "[Cowell] wants a big name female star on the panel."
"Mariah [Carey] is good but she's not that hot today. He wants Beyonce because that would immediately give him the bounce needed to beat American Idol."
Geri Halliwell's back in the Union Jack dress:
Well not only is Geri back posing in a Union Jack dress for her Britannia-themed collection for Next (we will always prefer the classic one from the 1997 Brit Awards!), but, you guessed it, another Spice reunion is definitely on the way!
Not only is the amazing Viva Forever musical set to hit the West End later this year but Gary Barlow is planning to mark the Queen's Diamond Jubilee with a concert at Buckingham Palace, and he is desperate for The Spice Girls to perform.
The amazing Spice Girls are without a doubt one of the best things to come out of the 1990's with their catchy songs and girl power, and with the Olympics and the Queen's Diamond Jubilee placing all eyes on London in 2012, will one of our great pop acts reform to showcase what Britain has to offer?
The full line-up for the concert will be released this Tuesday (7th February).
Part 1/2
By Rebecca Crutchley
Comments
comments