It's been another amazing week in celeb land! Read on here for all the lastest gossip from our favourite stars…
The Wanted 'don't talk' to One Direction:
Both The Wanted and One Direction have hit the big time in the US, but The Wanted's Max George has spoken out about the two boyband's differences, and not in a nice way!
Speaking to the Metro, Max spoke about One Direction: "I'm not sure how well they're actually doing yet. They're more faces, if you know what I mean."
"I don't think people really look at us over there as the same kind of band because I think people look at them more like a Jonas Brothers sort of band that are very TV and children's magazine based. They make magazines instead of actually hearing them on the radio."
"I think our audience over there is sort of 18 to 25 or 30. We have a lot of radio play but I think we're more of a music band."
And then to stick the knife right in, Max said: "We don't talk." Ouch!
After facing a backlash from fans and critics, Max took to Twitter to defend his comments: "Just to clear up… I think interviews have been twisted and made into much dramatic than what they were."
"And all fans of any age, whether you're 1 or 90. Anyone who says or thinks different is full of s**t. Hope this puts peoples minds at rest xx"
Caroline Flack offered £500,000 to front cougar website:
Xtra Factor host Caroline Flack has been offered half a million pounds to be the face of US site CougarLife.com following her relationship with Harry Styles.
The website describes itself as an "online dating service that pairs women in their prime with younger men" and has offered the presenter a generous amount of money to promote the site.
The 32-year-old host dated the One Direction frontman last year even though they had a 17 year age difference, and has been a role model for older women who are involved with younger men.
A spokesperson for Caroline confirmed that the website had approached her but that it was a laughable offer that she would never consider, and turned it down point blank.
Caroline jokily tweeted: "Half a Million to be the face of Cougarlife.com?? YES! Finally I can afford my stannah stair lift sex swing!" Haha!
Katie Price recording new solo album:
Katie Price is yet again attempting to release a music album, but this time with her ex Dane Bowers!
The 33-year-old former glamour model tweeted: "I'm recording my 1st single 4 my forth coming album with Dane Bowers & David Anthony the producers x"[sic]
She dated Dane Bowers from 1998 to 2000 and has admitted that he has been the only man to break her heart, but seems to have buried the hatchet in the hope of a singing career.
Katie has previously tried her hand at singing with her audition to represent the UK in the Eurovision Song Contest in 2005, and also released singles including 'A Whole New World'- a duet with her ex-husband Peter Andre.
Katie's not one to shy away from trying anything business-wise after launching her own underwear range and even a magazine (yes, really!), she is working hard in the studio to produce her first solo album.
Alexandra Burke to adopt?
Is Alexandra Burke planning to adopt?
The former X Factor winner has revealed to now! magazine about her hopes to adopt a young boy from Uganda after she bonded with him during a trip for Sport Relief.
The young boy, Brian, was living on the streets and sniffing glue to keep warm. Alexandra met him by chance after spotting his Manchester United hat, and played football with the 10-year-old boy before finding more out about his life.
After hearing how his severe eczema had caused his family to exclude him, the singer was desperate to bring the child back to Britain.
Alexandra said about the boy: "His family just let him go because they thought he had a disease they might catch. In the end, though, his family wanted him back so I was told I couldn't adopt him."
Olly Murs tweets for Cheryl Cole's number:
Ha, you can't blame the bloke for trying!
Olly Murs uses Twitter to publicly ask for the Newcastle singer's mobile number, and so far there's been no reply!
The 27-year-old singer has always admitted that he fancies Cheryl, and after being hassled by fans to ask her out, he finally took the plunge by saying hello to her.
Cheryl, 28, then tweeted: "sod it ill tweet you back lol…Hope your good babe xx" [sic]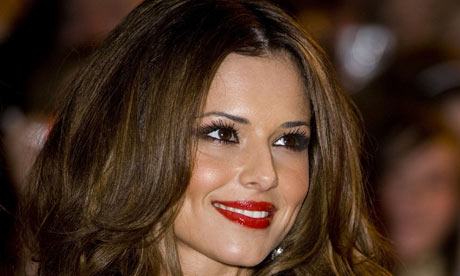 Cheeky chappie Olly replied with: "Haha sod it @CherylCole I'll ask for your number then #cantblameaguyfortrying #worthashot lol haha x"
How much of a seriously hot couple would these two be? Unfortunately, Cheryl has yet to reply with her number.
Part 1 of 2…
Comments
comments