Part 2 of 2…
Rihanna looks hot in new Armani advert:
Sometimes we wonder if Rihanna will ever go a day without look super-hot and sexy.
And no, she won't!
The Barbados-born beauty stars in a minute-long commercial for the new jeans range by the designer house- although she spends most of the time wriggling around a bed in just her underwear.
The black and white advert sees 24-year-old Rihanna struggling to sleep as she has a bad dream, but all eyes are on her amazingly curvy body.
It is only at the very end of the commercial when she slips a pair of Armani jeans over her pert bottom that you realise that the ad is for denim, but who cares about the product it's all about Rihanna!
After her dad Ronald recently spoke to Heat magazine that he told his superstar daughter that she was getting fat, the advert proves that she is one hot lady.
Tulisa and Mark Wright fling?
Wow well what a story! N-Dubz's Tulisa Contostavlos and TOWIE's Mark Wright have had to use Twitter to stop stories of a fling between the two of them.
The X Factor judge, who is busy in America putting the finishing touches to her first solo album, met up with the Essex stud and Take Me Out:The Gossip presenter on a night out in Miami.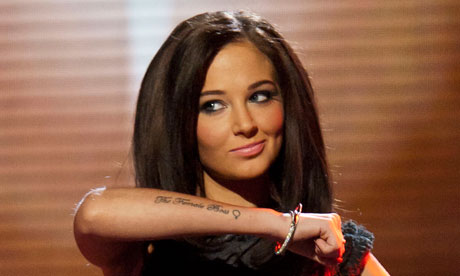 After 'a source' told national newspapers that the two had spent the night together, 23-year-old Tulisa took to Twitter to tell the world publicly exactly what she thought.
She tweeted: "I have sumthin 2 say 2day..1.people make me sick the things they do 4 cash,disgustin.2.why am I meant 2 b bangin every guy Im seen with?[sic]"
"3.I have DEFFINITELY NOT s**gged mark wright and I can swear that on my uncle B's GRAVE![sic]"
She then added: "GUESS WHAT… I am seeing some1!!cus Im a b**ody human being!& it gets better!..he is not mark wright!& 4 the record mark is not my type & nor me his..[sic]"
"In fact he thinks Im a chick with a d**k. & like my men a bit ruff around the edges!write that!middle finger is up..twit rant is over,thanks.[sic]"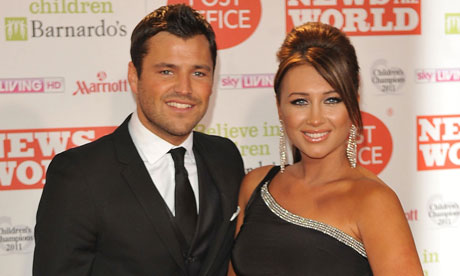 Mark, who split up with fiancé Lauren Goodger last summer, also felt the need to tweet the rage: "Funny how u cant even b friends with some1 in a group without people makin up rumours oh well another day another rumour #moveon enough said.[sic]
"As 4 the people making up the rumours and selling lies on peoples personal life ur nothing but waste of air !! #lowlife #f***you.[sic]"
"So easy 4 people 2 look at 2 people in public eye who have been seen 2 KNOW EACHOTHER & say "I no I'm going 2 earn some cash" 1 word #scum[sic]," he added.
"Rant over !! So 2 sum it up I have not been with tulisa !! Annnddddd breathe !! Right let's all have a lovely day now and move on from c**p.[sic]"
And guess who Tulisa is reportedly seeing? Only the gorgeous Skins star Jack O'Connell!
Halle Berry engaged:
After the actress was spotted wearing an emerald ring on her wedding finger a few weeks ago, there have been constant rumours that Halle Berry and actor Olivier Martinez are engaged to marry.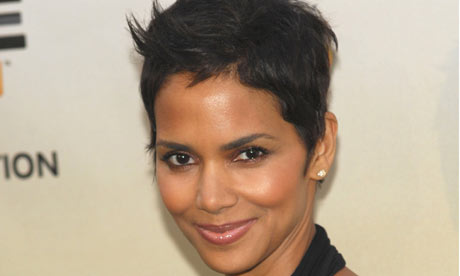 Now Oliver has confirmed that the pair plan to wed at the opening of his new restaurant, as he told The Miami Herald: "Yes, of course it's true."
Twice-married Bond girl Halle has a daughter from a previous relationship, and Olivier has a long list of famous ex-girlfriends including Pop princess Kylie Minogue and the gorgeous Rosie Huntington-Whiteley. Congratulations guys!
Una Healy gives birth!
Congratulations to The Saturdays' Una Healy and fiancé Ben Foden on the birth of their first child!
The 7lbs 3oz baby girl has been named as Aoife, a traditional Irish name meaning 'beauty'. Awww!
England rugby player Foden tweeted: "I am officially a Dad!!!!!! Una an baby are both amazing and healthy!!!! So proud of them both! #babybenuna."
Her Saturdays bandmates followed with their happy tweets, and as Una had been very quiet on the social networking site recently, many fans were questioning if she had gone into labour.
What an amazingly gorgeous baby girl she will be! Congrats!
Other news in celeb land:
Pippa Middleton skis 56 mile charity race
Peter Andre's brother's cancer spreads
Victoria Beckham refuses to be seen in Ugg boots or tracksuit bottoms
Kerry Katona wants a Christmas wedding
Jessica Simpson looks ready to pop on the Ellen DeGeneres show
Rihanna tweets about love- maybe about Chris Brown?
One Direction's Liam Payne's girlfriend receives death threats on Twitter
Prince Harry races Usain Bolt in Jamaica
Jeff Brazier and Nicola T colour co-ordinate as they step out together
Alex Reid struggles to plan wedding while still married to Katie Price
Gabby Logan crowned 'Mum of the Year'
Justin Beiber gains another tattoo on his leg
Peaches Geldof tweets pics of baby bump
Rugby star and Charlotte Church's ex Gavin Henson to become a film star?
Rihanna steps out in see-through jumper- without wearing a bra!
Comments
comments