Part 2 of 2…
Tulisa in Sex Tape trouble:
Eeeek a sex tape of X Factor judge Tulisa Contostavlos has gone public!
Earlier this week the internet was awash with a download available for £3.90 showing a young, blonde Tulisa performing a sex act on former boyfriend Justin 'Ultra' Edwards.
Ultra, who dated Tulisa on and off throughout her late teenage years, has effectively carved a career from Tulisa through her persuasion to get him a record deal whilst they were together as a couple.
Now it seems like Ultra had a lot to share with the world about Tulisa and him, all in the form of a raunchy sex video.
Once the video was online and the world of social media had been alerted to it, Tulisa's lawyers worked quickly to gain an injunction on the video- restricting usage, sharing or discussion of the footage.
Fiery Tulisa however decided the only way to stop the frenzy of the six minute-long sex tape was to talk about it, and the singer took to YouTube to speak to fans.
Posting online through her Twitter page, she wrote: 'The truth about the tape' alongside the link to her response to the leaked video.
In her five minute video on the video sharing site, Tulisa held up pictures of her and ex-boyfriend Ultra and said: "I practically moved in with him, I loved him deeply, had a lot of respect for him, we talked about kids and marriage. I got my record label to give him a singles deal.
"I never expected a scenario like this.
"As you can imagine, I'm devastated. I'm heartbroken. I've been in bits for the last few days.
"When you share an intimate moment with someone you love, that you care about and trust, you never imagine that at any point it will be shared with the rest of the UK or people around the world."
Tulisa and her legal team are now suing Justin Edwards for £100,000 damages for alleged breach of privacy and confidence.
One Direction make music history!
When Simon Cowell put these five wannabe solo singers together on the 2010 X Factor to form a super-cute boy band, did anyone think they were going to do this well???
The adorable and gorgeous One Direction boys have this week made US chart history- by becoming the first UK pop group to debut at number one on the US album chart!
Their first album, Up All Night, has soared to the top spot after a whirlwind domination of America. To put the level of their success into realistic terms, it's a situation the Beatles could have only dreamed of, while the Spice Girls only reached number six with album Spice in the late '90's.
The five-piece pop band, comprising of Harry Styles, Zayn Malik, Niall Horan, Louis Tomlinson and Liam Payne, are ecstatic at the news of their astounding success.
Niall said: "We just found out that we are number one in America and as you can imagine, we are over the moon!
"When we got put together as a group, we couldn't imagine ourselves coming to America, let alone releasing our album here, so for us to be sitting at the top of the US album charts is unbelievable.
"We are so grateful to everyone who has supported us in the US."
Thousands of American fans have greeted the British boy band at each stop of their tour of the United States, and it looks like the gorgeous five-piece are going to take over the world!
Hilary Duff baby joy!
Actress Hilary Duff has given birth to a beautiful baby boy!
The 24-year-old, who has been married to hubby Mike Comrie for 18 months, gave birth to baby boy Luca Cruz Comrie earlier this week.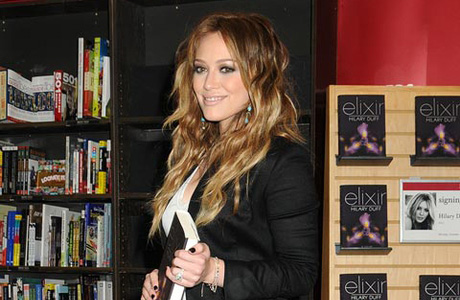 Hilary wrote on her own personal website Hilaryduff.com: "Tuesday evening, we became proud parents of a healthy 7 pound 6 ounce beautiful boy."
"We are overjoyed and feel like the luckiest parents in the world. He is surrounded by so much love!! Mom and baby are both doing extremely well."
Congratulations!
Kim Kardashian gets 'flour bombed':
Reality star Kim Kardashian was dramatically flour bombed at her own perfume launch in West Hollywood.
The flour bomber, reportedly a PETA activist, was detained by hotel security after throwing copious amounts of flour over the 30-year-old television star.
Kim, originally dressed in a black blazer and leather bottoms, was covered from head to toe in a substance later identified as cooking flour.
Kim refused to let the incident spoil her night and after rubbing off all traces of the flour, she returned to the event and told the police department that she did not want to press charges.
Kim old E! Online: "That probably is the craziest, unexpected, weird thing that ever happened to me."
"Like I said to my make-up artist, I wanted more powder, and that's a whole lot of translucent powder right there."
The Voice vs Britain's Got Talent:
So, did any of you lovely lot spend your Saturday night snuggled in front of the TV? We sure did!
The BBC's new venture, The Voice, first aired this weekend with a superb opening show. With a mentoring panel made up of legendary singer Tom Jones, ex-Black Eyed Peas' Will.I.Am, the gorgeous Jessie J and The Script's lead singer Danny O'Donaghue, this huge BBC project was not to be missed!
Competing with both of ITV's talent shows Britain's Got Talent and the X Factor, the UK version of The Voice looks set to provide a whole new level of entertainment!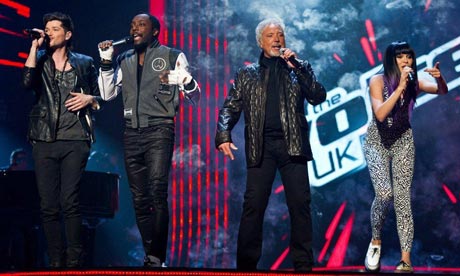 Whereas other talent shows have involved face-to-face contact with the nervous performers, The Voice's difference is that the four mentors (not judges!) are sat with their backs to the auditionee, making sure that any decision they make is based on voice alone, and not looks.
Over on ITV, we saw the return of Britain's Got Talent. With a new and ever-changing line-up of judges, this year's competition welcomes the return of super-music-mogul Simon Cowell.
Alongside the TV dominator Cowell, we have ex-Strictly Come Dancing judge Alesha Dixon, comedian and one half of Little Britain's David Walliams, and new mum and regular on the judging panel- Amanda Holden.
Unlike The Voice's attempt to win ratings by only choosing good singers to perform in front of the panel, Britain's Got Talent relies on its continual usage of pitiful wannabes to keep the entertainment going. Alongside scary pensioners and giant angel costumes, a sensation was born in the first episode of BGT – step forward duo Charlotte and Jonathan.
With typical looks from the judges as they're faced with any contestant that isn't a skinny size 8, another Susan Boyle moment happen. Aptly being nicknamed as SuBoy, Jonathan wowed the crowd with his operatic voice, and we quickly saw the pound signs flash in Cowell's eyes as he'd found a potential superstar.
Other news in celeb land:
Price Harry struggles to find a girlfriend
Katy Perry's dad admits to still texting Brand
Corrie's Bill Roache 'has slept with over 1000 women'
X Files' Gillian Anderson reveals long relationship with female
Victoria Beckham swaps champagne for peppermint tea
Georgia Salpa admits she receives flirty texts from Peter Andre
Charlize Theron adopts a baby son- awww!
Courtney Cox admits she's struggling to move on after David Arquette
Cheryl Cole and Rihanna admit their girl crushes to each other on Twitter!
X Factor's Marcus Collins claims Gok Wan tried to pull him
Alex Reid calls Chantelle 'Pregzilla'
The Wanted's Tom teaches Brooklyn Beckham to play guitar
Katie Price and Alex Reid are officially divorced!
Rochelle Wiseman celebrates birthday in London with friends
Kristen Stewart buys boyf R-Patz a £50,000 piano
Kate Middleton wears Ed Sheeran's mum's designed jewellery
Comments
comments