Part 2 of 2…

Frankie Sandford opens up about battle with depression:
The Saturdays' singer Frankie Sandford has opened up to Glamour magazine about her battle with depression.
After entering hospital last year following a series of panic attacks, 23-year-old Frankie has yet to speak out about her troubles until this revealing interview for Glamour.
The singer said: "It all started when I was about 15 or 16. I used to stay in bed a lot and had no motivation; I thought I was just being lazy.
Frankie admits she finally released she had a serious problem after an issue with some yogurt: "Suddenly my illness had control over me, I got upset because Wayne hadn't bought the right yogurts; I managed to convince myself he didn't know me at all.
"It set off this spiral of negative thinking – if I disappeared, it wouldn't matter to anyone. In fact, it would make everybody's life easier. I felt that I was worthless, that I was ugly, that I didn't deserve anything.
"There was a part of me thinking I was putting it on, that I wasn't properly sick, and only sick people should be in hospital
"I thought that since mine was only a mind thing, I should snap out of it. I got so good at covering it up, I didn't confide in anyone.
"I thought I was selfish, miserable and ungrateful. I'd been given this amazing life, but I wasn't happy.
"I did lose myself, but I feel like me again now. But I try not to put pressure on myself – it's unrealistic, no one is 100% happy all of the time."
Danni Minogue and Kris Smith split:
The former X Factor judge has split with Kris Smith, the father of her child, after four years together.
The pair, who have 21 month old son Ethan together, have split after reports of his infidelity became too much.
Dannii, 40, tweeted: "It brings me great sadness to tell you that Kris & I have separated. We still care for each other & ask for privacy at this difficult time, in particular for our son Ethan who remains our number one priority."
Model and former rugby star Kris, 33, tweeted: "Dannii and I have a deep mutual love and respect for each other and although things have not worked out we have a gorgeous son together that we both love."
Their relationship had been rocky after numerous pictures of Kris and model Jennifer Hawkins showed the two getting close on numerous public occasions.
Dannii later tweeted again, saying: "Hi Tweet peeps. Needing to retreat for a while. Thank you for your ever loving continued support."
Cheryl Cole's new song lyrics:
Cheryl Cole has found a way to vent her anger at ex-husband and love-rat Ashley Cole through her new solo album.
One song 'Screw You' is thought to be a dig at cheating ex Ashley and features numerous expletives.
Screw You includes the lyrics: "Can't believe all the s*** I did for you, was so caught up in the love I felt for ya.
"I was never enough, I never got your love. I loved you so much but you never gave a f*** so screw you.
"I can still remember our first date, never thought I would scream 'I hate ya'."
Cheryl's new album will reportedly feature Alex Da Kid, Taio Cruz, Usher, Calvin Harris and manager Will.I.Am and is set to be relased this summer. However, will it be under the name of Cheryl Cole or just Cheryl?
Reports that Cheryl is looking into dropping her surname (her maiden name is Tweedy yet remained Cheryl Cole post-divorce for work purposes) to simply 'Cheryl' and may be seen as the final nail in the coffin to ex Ashley Cole.
Like Beyonce and Rihanna, who are known worldwide by simply their first names, Cheryl wants to rid her surname.
A source told The Sun: "She's not removing Cole legally, it's just a career statement.
"She's in a really good place at the moment and wants to take life by the balls."
Take That baby news!

N'awww who can deny a good bit of baby news!
It seems Take That were all feeling slightly aroused at the same time as two more confirmations of mini Take That members were made public!
Following Gary Barlow's announcement that he and wife Dawn were expecting their fourth child together only a few weeks ago, now Robbie Williams and Mark Owen have confirmed their good news.
Robbie Williams and wife Ayda Field are expecting their first child, and apparently 38-year-old Robbie is so happy he can't stop crying!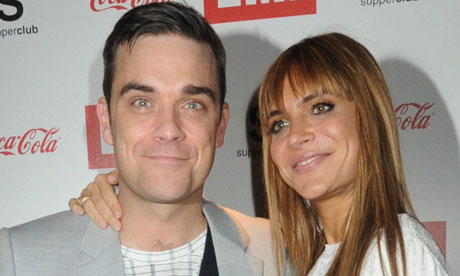 Robbie's dad Pete shared: "He says he's been crying a lot because he's so pleased.
"Mark's expecting and Gary too, so there will be three little Take That babies in one go. They might call it Pete."
However dad Pete may be disappointed by the lack of the male name- as friends of the couple have shared that their first child is a little girl!
Robbie wrote on his website: "Me and Ayda are going to be mummy and daddy this year. We had sex! It works!
"We've seen scans and cried. We've looked at babies in commercials and teared up.
"The nursery is already planned. Basically I'm in love with a little person growing in mummy's belly. And I can't wait to be a daddy. Crying now.
"Much love, much joy. Roberto, Mum and Little Bump." Awww!
And, just days after Robbie shared his fantastic baby joy news, another member of Take That revealed that he's expecting another child!
Mark Owen and wife Emma were proud to announce they were expecting their third child together through the band's official website.
The 40-year-old wrote: "Emma and I are delighted to confirm reports that we are nearly six months pregnant and expecting our third child in the summer.
"Myself, Emma, Elwood and Willow are thrilled with the news and cannot wait to meet the new addition to our family."
The news of their baby joy comes just a few years after Mark admitted to having over 10 affairs whilst the couple were together.
Congratulations!
Other news in celeb land:
Konnie Huq and Charlie Brooker welcome first child
Victoria Beckham gets a new shorter hairstyle
Tulisa goes to dinner with Jack O'Connell and family
Nicola Mclean pregnant
Johnny Depp and Ashley Olsen getting close?
Titanic 3D hits the big screens
Rihanna takes tube to Drake concert at 02
Sandra Bullock to adopt another baby?
Katherine Jenkins reveals heartache after split with Gethin
Simon Cowell to become 'nicer' following loss of ratings to The Voice
Reese Witherspoon's baby bump looks bigger and bigger!
Anne Hathaway goes for pixie crop for role in Les Miserables
Stars tweet adorable pics of babies in Easter costumes
Comments
comments